What Are Eternity Rings?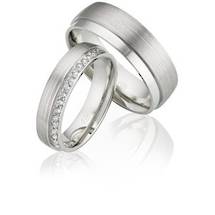 Buying jewellery for the special woman in your life is no easy task at times. Anyone who had gone through this experience knows the difficulty of the situation. There are numerous aspects to consider when buying a piece of jewellery for your fiancée. Personal experiences, lifestyles choices and the budget play a big role in this regard. This is where an eternity ring would come in handy. Eternity rings are beautiful symbols of love that your sweetheart will cherish for many years to come and these rings are becoming more popular today. This article provides a comprehensive overview of eternity rings.
Eternity rings are made of gold, platinum or white gold. They look similar to a wedding band but with gemstones fixed to the outside of the ring. Some rings have gemstones halfway around while most of the rings have gemstones all the way around. Diamonds are used in most of the eternity rings but you can take the opportunity to pick a relevant stone for example a birth stone.
An eternity ring is a continuous circle of precious metal that can never be broken. It signifies the eternity of love between a couple's until eternity. The diamond stones on the band makes the ring even more stronger. The ring cannot be broken without damaging the diamond stones on it. It can never be cut since the gemstones would be damaged. This is why it is called the eternity ring. Many couples like to buy this sort of ring for their wedding ceremony because it represents an eternal love life for the couple but other couples b give these rings for special events. Diamond is the strongest compound on the planet and as such is a symbol of the strength of their love for each other. Generally, a diamond ring means underlying love, fidelity, loyalty, devotion, commitment, unwavering partnership and eternal friendship.
Eternity rings can be customised to the size and style of the recipient. There are many things to consider when purchasing an eternity ring. The first thing is to decide on a budget. In fact, ring shopping would be much easier if you allocate a budget for it first. There are rings available in a myriad of choices and in different price ranges. The cost of the ring will mainly depend on the band metal and the stones that you choose for it.
Knowing the exact ring size of your partner is vital since the ring cannot be altered once the band setting and stone designs are incorporated. The fashion style is also important when buying a ring for your partner. Will she go for a classic style or a more fancy type of ring? Discuss all these things with your partner before going out shopping for an eternity ring. It will definitely help you save hard-earned money and your valuable time as well.
Eternity rings are quite popular on the Internet. There are many jewellers in Auckland like Orsini offering quality eternity rings on the net. You can buy a quality ring for whatever style you prefer by searching online. Visit the websites of these e-commerce stores to find the ring you want. This way you are able to choose the best eternity ring without much hassle.
In conclusion, for couples in Auckland eternity rings are extremely popular among those getting married or celebrating a special occasion. Both the ring and its symbolism are strong and durable which is increased by the string of gemstones on top of the band.
The website to see some fine examples of eternity rings in Auckland is http://www.orsini.co.nz.