What To Consider When Buying High-End Custom Jewellery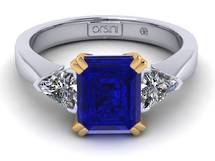 There are some people who are perfectly happy buying pieces directly from the jewellery counter. While there is nothing wrong with this, customizing a piece means that you will have on something that is one of a kind. If you are thinking about going to a high-end jeweller to get something specially made, you should probably read this first.
The first thing that many people fail to realize is the fact that a custom jewellery piece is very expensive. You cannot look at a ring in a case and assume that your personal creation will cost just as much. A jeweller is taking your vision and making it come alive, and this is something that comes with a premium. If you cannot comfortably afford to buy jewellery that is up there in price, you should probably try searching for a piece that is already made.
While you have a lot of input into the jewellery that is being made for you, keep in mind that the jeweller has the final say. There are many people who believe that the pieces they buy should look exactly how they envisioned, but sometimes there is no way to do this while holding on to the integrity of the piece. Since a jeweller has to attach his or her name to the piece, you have to give them the freedom to make decisions that are for the best.
Creating a custom piece takes time, so plan ahead if you are looking to have something ready by a certain date. For example, if you want to surprise your husband with a custom watch for his birthday, it would not be a good idea to wait until two weeks before that date to start looking. You should aim for three to six months beforehand, depending on how intricate you want the piece to be.
Don't think that having exclusive custom jewellery made is all about dropping off a sketch and picking it up when it is done. This is a process where you will be expected to have a good amount of involvement. You should expect to meet with a jeweller several times in person and communicate via email or phone if necessary. If you cannot make yourself available, there is a chance that your piece will not turn out like you want it to. People who do not have time to invest into this project should probably reconsider buying custom jewellery.
You may not get to see your creation until it is already done. This is difficult for people who are extremely picky since you will still be required to pay for it regardless of whether you like it or not. This can be such a long and arduous task that jewellers might work for months to create something to your specifications. You may feel like you have the right to refuse to pay for something you feel is not up to your standards, but they have already put in the work and they should be compensated. If you know that you are someone that is generally picky about the smallest details, this may not be something that you want to consider.
One of the leading custom jewellers in Auckland is Orsini Fine Jewellers of Parnell.
Buying custom-made jewellery is a great idea if you have been searching for a while and you have not found anything in the case that strikes your fancy. Make sure that you keep all of this information in mind if you are planning to have a personalized piece made. Many people walk into this blindly without knowing what to expect. After reading all of this, you will not be one of them.
The website for Orsini is www.orsini.co.nz.